NATIONAL POLICE WEEK 2019: HONORING AND REMEMBERING OUR FALLEN LAW ENFORCEMENT OFFICERS
05/13/2019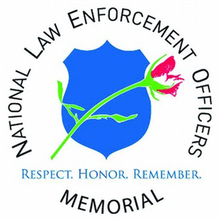 (Cherokee County, Alabama) – "The wicked flee when no man pursueth: but the righteous are as bold as a lion." Proverbs 28:1 This scripture, inscribed on the National Law Enforcement Memorial in Washington, D.C., is a description of the thousands of men and women who gave all to protect and serve our communities across America.
During National Police Week, May 12-18, 2019, we honor and remember those law enforcement officers who made the ultimate sacrifice, as well as the family members, friends and fellow officers they left behind.
"This week is set aside to remember the peace makers who gave sacrificially of themselves," Cherokee County Sheriff Jeff Shaver said. "Their memory will live on in those who continue to serve."
The names of 371 officers added to the Memorial this year include 158 officers who were killed during 2018, plus 213 officers who died in previous years but whose stories of sacrifice had been lost to history until now.
With these additions, there are more than 21,900 officers' names engraved on the Memorial, representing all 50 states, the District of Columbia, U.S. territories, federal law enforcement, and military police agencies.
In Cherokee County, we honor the memory of four fallen officers: Cherokee County Sheriff Lansford Stallings, December 4, 1845; Officer Elmo S. Morgan, Cedar Bluff Police Department, December 29, 1972; Officer William H. Wilson, Cedar Bluff Police Department, July 29, 1973; Investigator Jeffrey Hugh Bryant, Centre Police Department, December 20, 2013. (According to https://nleomf.org)
On May 15th each year, the Fraternal Order of Police and the Fraternal Order of Police Auxiliary host a ceremony on the west steps of the U.S. Capitol to honor fallen law enforcement officers and their families.
In tribute to American law enforcement officers and at the request of the National Law Enforcement Officers Memorial Fund, Public Law 103-322 designates May 15th National Peace Officers Memorial Day, which is one of only two days each year during which government agencies, businesses and residents are to fly their U.S. flags at half staff.
- ### -