Cedar Bluff Man Arrested for Attempted Murder
08/15/2018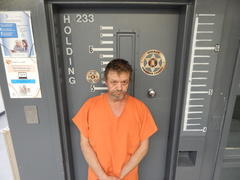 According to Sheriff Jeff Shaver, around 10:20 a.m. Tuesday, Cherokee County 911 received a call in reference to an active shooting taking place at a residence north of Cedar Bluff. Law enforcement from across the county responded to the area. Cedar Bluff Police Chief Steve Walden was the first in the area and observed a white Ford F-150 leaving the residence at a high speed headed towards the state line on AL Hwy 9. Chief Walden initiated a short pursuit of the truck but lost sight of it north of AL Hwy 35 due to excessive speed. Floyd County, Georgiaauthorities were notified of the incident and began searching for the truck also. It was determined that the suspected shooter, later identified as Billy Wayne Trammell, had stolen the truck.
Cherokee County Investigators located the truck a short time later parked off County Road 773. Trammell was not in the truck and was believed to be on foot in the area still armed with a firearm. After several hours of searching, authorities called off the search, believing that Trammell had assistance leaving the area.
According to Sherriff Shaver, around 4:30 p.m. the same day, Trammell's family members contacted a deputy to speak about Trammell turning himself into him at the Cherokee County Sheriff's Office. Trammell arrived and was taken into custody without any injuries to Trammell or law enforcement. "This is always our number one goal in situations like this," Sheriff Shaver said. "Anytime someone is arrested without injuries to either the suspect or law enforcement, especially in a serious crime like this, we count this as a success."
Trammell was booked into the Cherokee County Detention Center just after 5:00 p.m. Tuesday on warrants of Attempted Murder and Theft of Property 1st. He remains in jail without bond.
Sheriff Shaver would like to extend thanks to Cedar Bluff Police Department, Centre Police Department, Floyd County Sheriff's Office, and Alabama Game and Fish for assisting in the investigation and search.