Gaylesville Man Charged with Attempted Murder...
03/23/2018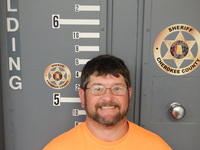 According to Cherokee County Sheriff Jeff Shaver, an incident took place Wednesday, March 21, 2018, at a residence on County Road 77 in the Gaylesville area resulting in a man being shot multiple times.
Deputies, investigators, and other members of the Major Crimes Unit responded to the scene. The JSU Center for Applied Forensics also responded and assisted in processing the crime scene.
Sheriff's Office personnel arrived promptly on the scene and rendered medical aid to the victim until EMS arrived. Cherokee EMS transported the victim to a landing zone at Cedar Bluff School, where he was airlifted to an area hospital. He is listed in critical but stable condition.
According to Sheriff Shaver, Jeremy Bleu Clifton, 38, of Gaylesville was arrested on Thursday for second degree domestic violence in connection with a separate incident and is being held in the Cherokee County Detention Center on a $15,000 bond for the domestic violence charge.
Chief Investigator Josh Summerford charged Clifton on Friday with attempted murder for the shooting of 27 year-old Tyler Nance. Clifton remains in the Cherokee County Detention Center.