Warrant Round-up Nets 10 Arrests…One Suspect Still At-Large
10/12/2016
According to Cherokee County Jeff Shaver, on Tuesday, October 11, 2016, deputies and investigators conducted a warrant round-up for suspects wanted on grand jury indictments and non-payment of child support. Ten arrests were made as a result of the operation, including Barry T. Bishop, 57, and John B. Doss, 54, both of Cedar Bluff, and Pamela A. Warren, 49, of Centre for non-payment of child support. John D. Hinton, 53, of Piedmont was arrested on a grand jury indictment (GJI) for trafficking marijuana, Michael T. Bentley, 31, of Centre on a GJI for first-degree sexual abuse, Stacy L. Roach, 30, of Centre on a GJI for sexual abuse of a child less than 12 years of age, Clinton E. Hunt, 46, of Piedmont on a GJI for two counts of first degree rape, and Pamela M. Gossett, 54, of Centre was arrested for hindering prosecution.
Two others were arrested on Tuesday afternoon after a vehicle and foot pursuit. Investigators Brent Snead and Michael Green and Chief Investigator Josh Summerford attempted to stop a vehicle near McCord's Crossroads, when the pursuit began. The driver turned onto County Road 571 near the Spring Creek Fire Department and wrecked, then three individuals fled on foot. Investigators apprehended two of the suspects, after a brief foot chase. Bobby J. Townson, 34, and Whittney C. Davis, 26, of Fort Payne were arrested and charged with attempting to elude. Townson will be transferred to the DeKalb County Jail to face existing warrants for drug charges there. Cherokee County deputies, Centre Police officers, a tracking dog from Georgia, and a helicopter from the Alabama Law Enforcement Agency searched for the third suspect, Jeremy L. Justice, 33, of Fort Payne, who remains at large. In addition to the charges in Cherokee County, Justice faces charges in Jackson and DeKalb Counties.
Sheriff Shaver requests if you have information on Jeremy Justice to please call the Sheriff's Office anonymous tip line at 256-927-9999.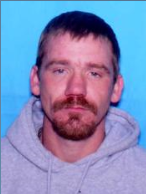 Jeremy Justice-WANTED