Sheriff Shaver reports investigators had successful week…
12/14/2015
According to Cherokee County Sheriff Jeff Shaver, several stolen vehicles were recovered, multiple drug arrests were made, an arson case was solved, and burglary suspects were arrested last week.
Three stolen vehicles were recovered last week. On Wednesday, December 9, 2015, a vehicle stolen from Piedmont was recovered north of Centre. On Thursday, Leesburg Police and Sheriff's Office investigators recovered a stolen truck in Sand Rock. Also on Thursday, investigators recovered a stolen jeep in Paulding County, Georgia. The jeep was stolen the previous day from a residence in the Spring Garden community.
Investigators arrested Jeffery Lynn Jordan, 51, of Centre, on Wednesday, on second degree arson charges. Jordan is accused of burning a residence in the Hebron community in late 2013.
Three suspects were arrested by Sheriff's Office investigators in connection with a burglary and theft that occurred in the Newberry Crossroads community. James Carl Reynolds, 44, of Centre was charged with third degree burglary and first degree theft of property. Kerren W. Sexton, 39, of Glencoe, and Randy Hugh Daniel, 59, of Athens, were also charged with third degree burglary.
Jordan, Daniel, Sexton, and Reynolds remain in the Cherokee County Detention Center.
Jeffery L. Jordan Randy Hugh Daniel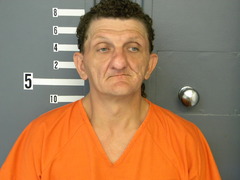 Kerren W. Sexton James Carl Reynolds