Missouri Fugitive Captured in Gnatville
11/16/2015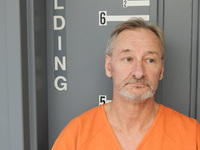 A fugitive from Missouri was arrested Friday by the Cherokee County Sheriff's Office on County Road 18 in the Gnatville community. Investigators received information that 58 year-old Michael Lee Caldwell, was armed and driving a stolen pickup truck on the south-end of Cherokee County. Detectives from Scott County, Missouri, confirmed that Caldwell was wanted for stealing a truck in their county and that he had fled the State of Missouri.
Deputies and investigators, along with Sheriff Jeff Shaver, converged on the area and located Caldwell and the stolen truck. Caldwell was arrested and charged by Cherokee County investigators with Receiving Stolen Property, first degree, and a hold was placed on him for Missouri's charges of Theft of Property and a Probation Violation.
Caldwell remains in the Cherokee County Detention Center awaiting bond and extradition by Missouri deputies.