Two Arrested in Apparent Home Invasion
07/18/2015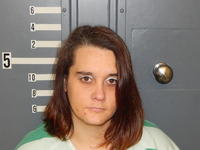 According to Cherokee County Sheriff Jeff Shaver, two people were arrested Saturday morning as a result of an apparent home invasion.
Deputies, along with investigators with the Cherokee County Major Crimes Unit, responded to a robbery call late Friday night in the Gaylesville community. The lady was assaulted in her home and several items of her property were stolen. The victim was transported and treated at a Rome, Georgia hospital.
Investigators worked through the night and into the day on Saturday which resulted in the arrest of two people involved in the robbery. Twenty-four year-old Jeffery L. Epps, of Gaylesville, and twenty-seven year-old, Brandie N. Webb, of Fyffe, were both charged with Robbery 1st degree and Assault 2nd degree. The two were placed in the Cherokee County Detention Center.
The case remains under investigation by the Cherokee County Major Crimes Unit.