Man Arrested for Shooting His Neighbor
05/04/2015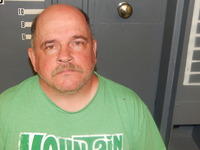 According to Cherokee County Sheriff Jeff Shaver, on Sunday evening, May 3, 50 year-old Mark L. Royal of Norcross, Georgia, was arrested and charged with second degree assault for shooting his neighbor. The shooting took place at a campground on County Road 1008 in the Farill Community in northern Cherokee County. The two men were in an apparent dispute on the property of another neighbor when the shooting occurred.
Cherokee EMS transported the victim to Floyd Medical Center where he was treated and released for a gun-shot wound to the foot.
The case remains under investigation by the Cherokee County Major Crimes Unit.