New Website Feature
04/14/2015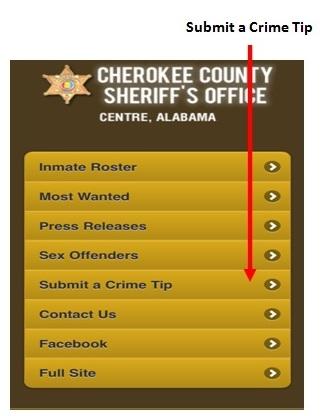 The Cherokee County Sheriff's Office is pleased to announce a new feature to our popular website. This new feature gives citizens the ability to upload non- emergency photos, videos, audio and other files to the Crime Tips Form (http://www.cherokeecountyalsheriff.com/crime_tip.php) on our site. This new feature is also available on our mobile version for those who access our website from their mobile phone or tablet. Cherokee County Sheriff Jeff Shaver is the first in the state of Alabama to have this feature.

The Sheriff's Office is blessed to have such a great relationship with this community and receive many tips each month from citizens. Having the ability to upload photos, videos, audio and other files to the Crime Tips Form will enhance the public's ability to assist the Sheriff's Office in investigating or reporting a crime. As always, a person has the choice of leaving a phone number or email address if they want to be contacted or may remain anonymous. Of course, in the event of an emergency or need of immediate assistance, please call 911 or the Sheriff's Office at 256-927-3365.

We also wish to thank the public for their continued support of law enforcement. We also believe the unique partnership we have between the public and law enforcement is a big reason we have such an incredible safe quality of life we all enjoy.

Sheriff Jeff Shaver