Gaylesville Man Arrested for Felony Assault
03/30/2015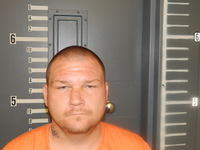 According to Cherokee County Sheriff Jeff Shaver, Nicholas Silvers, 32, of Gaylesville was arrested Saturday, March 28, on felony assault charges. Silvers, who was on the run, was captured around midnight in the Gaylesville area by deputies and the United States Marshal's Fugitive Task Force.
According to Major Crimes Unit Director Josh Summerford, a man was allegedly stabbed during an altercation with Silvers on Wednesday morning of March 25th in Cedar Bluff. The victim was taken to Cherokee Medical Center and transferred to another hospital for surgery. Investigators with the Cherokee County Major Crimes Unit responded to the hospital and then later to the crime scene, along with Cedar Bluff police.
Silvers is currently being held in the Cherokee County Detention Center on $25,000 bond.