Three Charged with Meth Lab in Broomtown
03/13/2015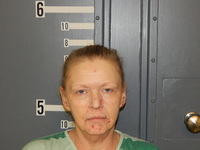 According to Sheriff Jeff Shaver, 3 adults were arrested in connection with a methamphetamine lab. James M. Bruce, 48, Donna L. Crowe, 52, and Cynthia Dawn Dupree, 42, are being charged with first degree manufacturing of a controlled substance, unlawful possession of drug paraphernalia for the meth lab equipment, unlawful possession of a controlled substance, and other drug-related charges. A juvenile was also taken into custody.
Investigators from the Cherokee County Sheriff's Office, District Attorney's Office, and the Chattooga County Sheriff's Office, were at the residence on County Road 41 in the Broomtown Community on Thursday morning of March 12 to arrest Bruce on a fugitive from justice warrant for a parole violation in Chattooga County, Georgia.
After investigators saw several items of drug paraphernalia at the residence, a search warrant for the property was obtained, which led to the discovery of the meth lab.