WOMEN ARRESTED FOR SEXUAL ABUSE 2nd
02/27/2015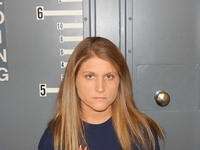 According to Sheriff Jeff Shaver, 36 year-old Leah B. Garmany of Centre, was arrested on Friday for Sexual Abuse 2nd degree and Electronic Solicitation of a Child.
The crime of Sexual Abuse 2nd degree occurs when someone, being 19 years old or older, subjects another person to sexual contact who is less than 16 years old, but more than 12 years old.
Garmany is an employee of the Cherokee County Board of Education. However, the incidents being investigated occurred at a residence and did not occur at school.
The case remains under investigation by the District Attorney's Office and, therefore, no other information can be released at this time.