Theft Suspect Arrested
12/30/2014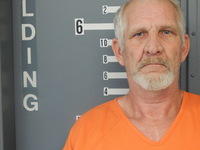 On Monday, Sheriff's Office investigators arrested Elbert "Tony" Pack for several felony theft and drug charges. An investigation has been ongoing for over a year for stolen watercraft and marine parts. According to reports, Pack was falsely operating as the owner of Weiss Marina in Cedar Bluff. There are several reports where Pack was hired to repair or sell marine-related items, but instead the items turned up missing.
According to Sheriff Jeff Shaver, investigators have so far recovered two stolen boats and two stolen jet skis that Pack sold to other people. Sheriff Shaver asks that anyone who has done business with Pack and is missing property to please contact the Investigations Division at the Sheriff's Office by calling 256-927-3365.
Pack is currently held in the Cherokee County Detention Center on a bond of $45,000.