Sheriff Jeff Shaver Presents Scholarship
05/21/2014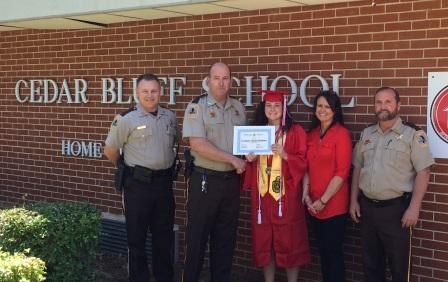 Sheriff Jeff Shaver and Chief Deputy Tim Hays recently presented Kathleen McGinnis, a senior at Cedar Bluff High School, with a $1,000 scholarship, awarded by the Alabama Sheriff's Association.
McGinnis has attended school at Cedar Bluff School since kindergarten. As an elementary student, she played tennis, soccer, basketball, and baseball. In 7th grade McGinnis won a gold medal in state track in the 4x8 relay. Throughout high school she received numerous basketball and softball awards, including All County, All Area, and All State. She also excelled academically and has been on the Principal's Honor Roll and Academic Excellence every semester.
McGinnis was chosen to represent Cedar Bluff High School at Girl's State at the University of Alabama, and has held other leadership roles, including Vice President of Focus and Youth Leadership Cherokee. She volunteered for the Appalachian Service Project, Renew Our Rivers, and helped carry out a dog show to buy bullet proof vests for police dogs. McGinnis says she plans to attend Jacksonville State University in the fall and major in Criminal Justice.
Sheriff Shaver stated that his Office was very glad to get the opportunity to deliver the scholarship to Katie and her Mother.
The Alabama Sheriff's Association sponsors the scholarship opportunity for the dependents of active and retired Sheriff's Office personnel that plan to major in criminal justice.