Kentucky Fugitive Arrested in Cherokee County
05/06/2014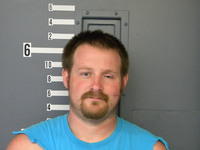 According to Sheriff Jeff Shaver, a Kentucky fugitive was apprehended on Monday, May 5, in the Gnatville community of Cherokee County. Robert Coltin Caldwell, 25, of Jenkins, Kentucky, was arrested on a fugitive from justice warrant and is also wanted by Kentucky authorities on several additional warrants, including felony assault to a law enforcement officer.
The Pike County, Kentucky, Sheriff's Office contacted the Cherokee County Sheriff's Office when they gained information that Caldwell may be hiding in Cherokee County. According to the Pike County Sheriff's Office, Caldwell has been on the run since assaulting one of their deputies attempting to arrest him.
Deputies and investigators from the Cherokee County Sheriff's Office, District Attorney's Office, and the United States Marshal's Service were attempting to locate Caldwell when he ran into the woods on County Road 18. Officers from Piedmont Police Department, Calhoun County Sheriff's Office, and the State Bureau of Investigation arrived to assist in holding a perimeter around the area. Soon after the arrival of a helicopter from the Alabama State Troopers and the Department of Corrections tracking dog team, Caldwell surrendered to deputies without further incident. Caldwell was transported to the Cherokee County Deention Center to await extradition to Kentucky.
Sheriff Shaver contributes this successful apprehension to the cooperation between the multiple law enforcement agencies involved and the ability to communicate on the County's new radio system in an area that previously had little radio coverage.