Firearms Safety Course
03/13/2014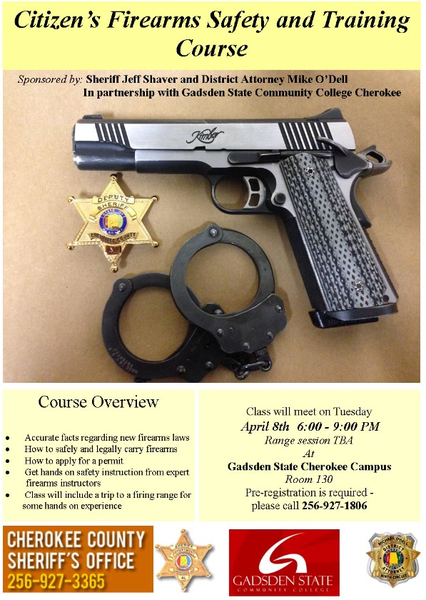 According to Cherokee County Sheriff Jeff Shaver, the Sheriff's Office in conjunction with the District Attorney's Office and Gadsden State Community College Cherokee are sponsoring a Citizens Firearms Safety and Training Course.
Course Overview:
Facts regarding new firearms laws
How to safely and legally carry firearms
How to apply for a concealed weapons permit
Safety instruction from firearms experts
Class will include a trip to a firing range for some hands-on experience
The class will meet at the Gadsden State Cherokee Campus in Room 103 on Tuesday, April 8th, from 6:00 pm until 9:00 pm, and the range date will be set at this time. The number of participants is limited, and pre-registration is required. Please call (256) 927-1806 to pre-register.