Gaylesville Man Charged with Felony Attempting to Elude after Pursuit...
04/26/2022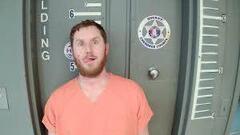 According to Sheriff Jeff Shaver, David Smith, 31 of Gaylesville, was arrested around 11 P.M. last night after attempting to flee deputies. A deputy attempted to stop Smith on the causeway on Highway 9 because the vehicle did not have tail lights. The driver refused to stop and the pursuit continued onto the Chesnut Bypass in Centre and ended when he struck another vehicle at the intersection of U.S. Highway 411 and the Bypass. The two occupants inside the vehicle were transported to Floyd Medical Center in Centre for non-serious injuries. He was charged with two counts of felony attempting to elude as a result of those injuries. After Smith was taken into custody, he caused damage to a deputy's patrol car by kicking out a window and spit in a deputy's face, and was charged with second degree criminal mischief and assault with bodily fluids for those actions.
Smith was then transported to the Cherokee County Detention Center.