Deputies Recover 2 Stolen Vehicles during Separate Pursuits...
01/11/2022
Cherokee County deputies recovered two vehicles stolen from Georgia during the last week. According to Sheriff Jeff Shaver, the first pursuit began just before midnight last Thursday when Deputy Dakota Deberry observed a 2020 Jeep Cherokee traveling at a very high rate of speed on County Road 157 in the Forney community.
The driver of the stolen vehicle, Jonathan C. Vaughn, 31 of Cedartown, Georgia, led deputies up U.S. Highway 411 into Georgia and eventually back into Cherokee County on U.S. Highway 278, where the driver came to a stop. Vaughn was taken into custody and charged with first degree receiving stolen property, attempting to elude, unlawful possession of a controlled substance, unlawful possession of brass knuckles and unlawful possession of drug paraphernalia. The passenger of the stolen vehicle, Patricia D. Morris, 26 of Rockmart, Georgia, was also arrested for unlawful possession of a controlled substance and drug paraphernalia. The Jeep was stolen from Murray County, Georgia.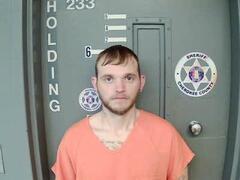 According to Chief Deputy Josh Summerford, a second pursuit resulted in the recovery of a stolen vehicle from Gordon County, Georgia. A 911 caller reported a reckless driver on Highway 9 in Cedar Bluff before midnight on Monday. Corporal Daniel Holcomb located the vehicle driving reckless and attempted to stop the car. The driver later identified as, Brittany Parks, 28 of Chatsworth, Georgia, refused to stop and a pursuit ensued. She continued into Centre, where Centre and Cedar Bluff Police Officers also attempted to stop her, and then onto U.S. Highway 411 north where the pursuit ended after she left the roadway and became stuck in the mud. The driver refused to get out of the vehicle and deputies had to break the window to remove her. She was arrested and transported to the Cherokee County Detention Center on charges of first degree receiving stolen property, DUI, attempting to elude and resisting arrest.