Sheriff Shaver Receives 40 Year Service Award...
08/24/2021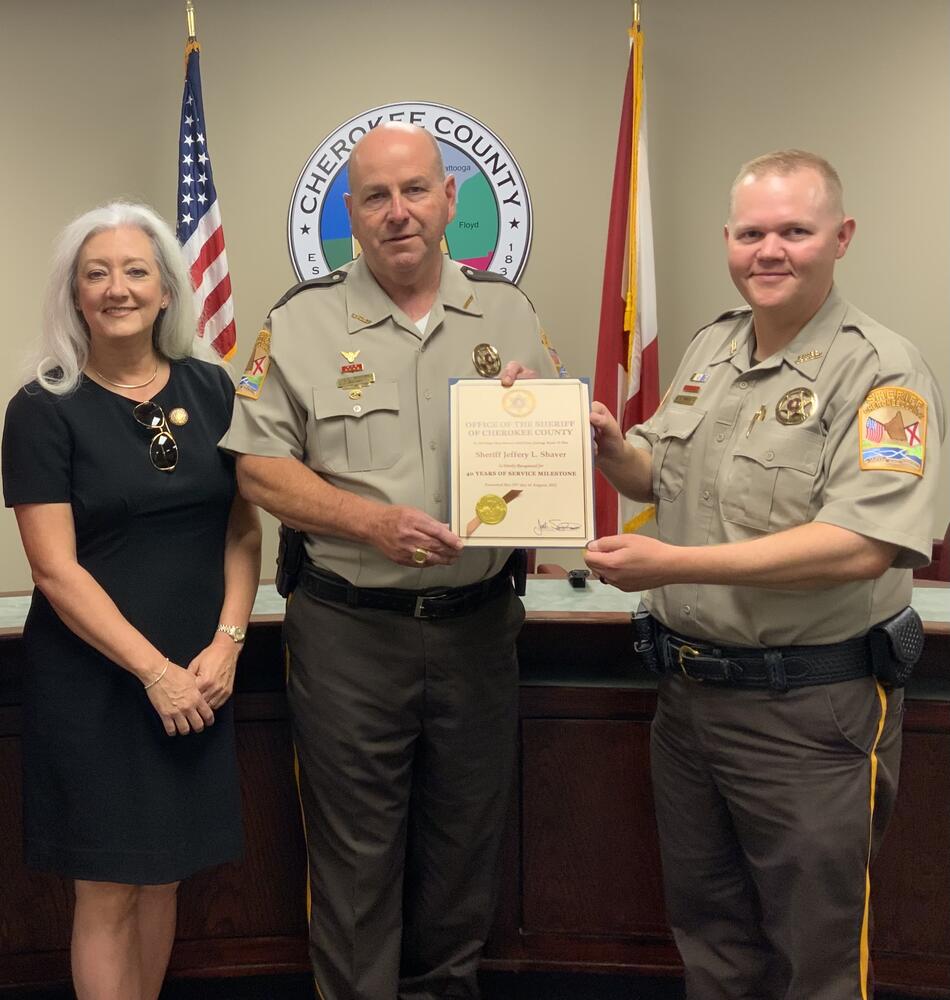 Cherokee County Sheriff Jeff Shaver received his 40-year service pin for his faithful service to the law enforcement profession on Monday, August 23rd. Chief Deputy Josh Summerford had the honor of presenting Sheriff Shaver with the award during the meeting of the Cherokee County Commission.
Shaver Jeff Shaver began his law enforcement career in 1981 as an Alabama State Trooper Cadet. During his year of training, in Selma, the Sheriff worked and trained in every division of the Department of Public Safety. Upon graduation he was sent to Russell County for 10 months of service before transferring to Cherokee County in 1983.
Because of his determined work ethic, Sheriff Shaver won the Thunderbolt Award twice for recovering the most stolen vehicles in the State and was also recognized as Trooper of the Year.
His dedication to the job was rewarded through promotions of Corporal, Sergeant, and Assistant Post Commander of the Jacksonville Trooper Post at his retirement in 2006.
Sheriff Shaver was first elected to the Office of Sheriff in 2006 and is currently serving his fourth term as Cherokee County Sheriff. He has plans to continue his service to Cherokee County for many years to come.
Since first taking office, tremendous progress has been made to better safeguard our students, citizens and deputies. These improvements include the addition of School Resource Officers (SROs), court security deputies, upgrades in equipment, fleet, and technology. The advancements have been possible through grant awards and working closely with the County Commission and our Federal law enforcement partners.
In 2014, Sheriff Shaver helped establish the Cherokee County Major Crimes Unit. The Unit's results prove its effectiveness as no homicide case has been left unsolved. This Major Crimes Unit is a direct result of the decrease in violent crimes in the County.
Under Sheriff Shaver's leadership a website was created to bring more transparency and community connection to the Sheriff's Office. Numerous training programs have been started for the community including church security and firearms safety. Three Sheriff's Office substations have been established with cooperation from the Town of Gaylesville, Sand Rock Fire Department, and the Cloudland Fire Department. These partnerships have created a greater law enforcement presence throughout the County.
Training has become an important focus so that deputies, investigators, and corrections officers receive more instruction than ever before that includes a standardized field training program for new deputies. Additionally, the Sheriff's Office is in the process of constructing a public safety training center and range, the first of its kind in Cherokee County.
Sheriff Shaver is well-respected among his Sheriff colleagues and serves on the Alabama Sheriff's Association Legislative Committee and the National Sheriff's Association's Education Committee. Shaver also serves as a district director for the Alabama Sheriff's Association.
"I have always valued my friendship with Sheriff Shaver. He has always strived to not only served the citizens of Cherokee County as their Sheriff but has contributed greatly to improving the Office of Sheriff in the State of Alabama," said Baldwin County Sheriff and Past President of the Alabama Sheriff's Association Hoss Mack.
Chief Deputy Summerford said, "Cherokee County and the Sheriff's Office are very fortunate to have Sheriff Shaver. This much experience and knowledge is a huge asset, but most importantly is how much he cares for people...the people of Cherokee County and the staff of the Sheriff's Office. It is an humble honor to be able to present the Sheriff with this service award. The Sheriff presents deputies with service year pins regularly, so it was a privilege to be able to present him with his."
"I am grateful to have been a peace officer for this long," Sheriff Shaver said. "And I look forward to continuing my service to the citizens of Cherokee County, as Sheriff, for many years to come. We still have much work to do to continue positive progress in the Sheriff's Office and for Cherokee County."
Judge Tim Burgess, Commission Chairman, expressed his gratitude for Sheriff Shaver's leadership in law enforcement and thanked him for his relationship with the Commission and his integrity.
Sheriff Shaver is a graduate of the National Sheriff's Institute and Jacksonville State University.