Deputies Presented Life Saver Award...
05/25/2021
Sheriff Jeff Shaver awarded two deputies with the Cherokee County Sheriff's Office Life Saver Award and presented them with the American Police Hall of Fame's Life Saver Award on Monday. The presentation was held during a meeting of the Cherokee County Commission where Corporal Kyle Newton and Deputy Logan Moore were both present to receive the awards. Cpl. Newton and Deputy Moore were nominated and chosen for the Life Saver Awards after responding to a call where an individual was bleeding from a serious gun shot wound. The deputies swift actions and outstanding efforts to render medical aid resulted in a life-saving measure.
Probate Judge Tim Burgess and Commissioners also recognized Cpl. Newton and Deputy Moore for their dedicated service to Cherokee County.
Sheriff Shaver said, "I am proud of Cpl. Newton and Deputy Moore for their quick actions during this emergency. Our deputies respond to emergencies and take selfless actions everyday to continue to make Cherokee County a great place to live."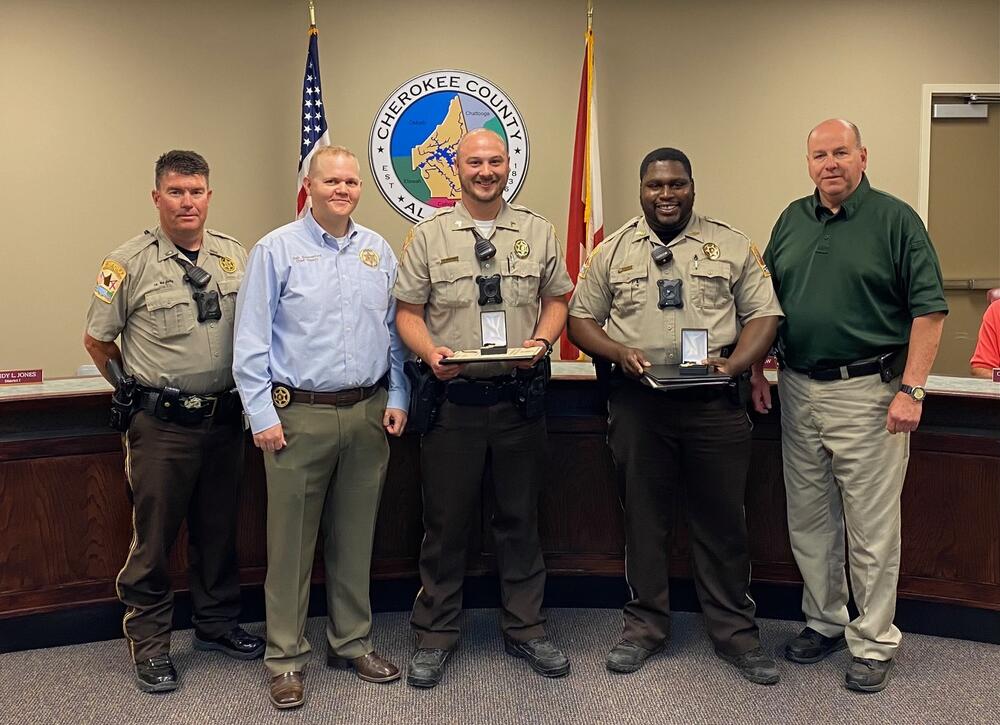 (L-R: Lt. Bo Jolly, Chief Deputy Josh Summerford, Cpl. Newton, Deputy Moore, Sheriff Jeff Shaver)