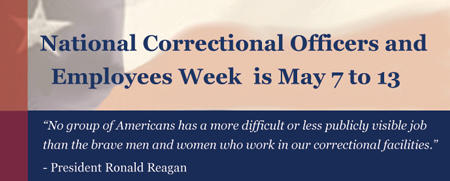 In 1984, then United States President Ronald Reagan, proclaimed the week beginning May 6th to be National Correctional Officers Week. Under Proclamation 5187, the late president recognized the inherent struggles correctional officers face daily and an evolving profession. He stated, "Historically, correctional officers have been viewed as "guards," occupying isolated and misunderstood positions in prisons and jails. In recent years, the duties of these officers have become increasingly complex and demanding. They are called upon to fill, simultaneously, custodial, supervisory and counseling roles. The professionalism, dedication and courage exhibited by these officers throughout the performance of these demanding and often conflicting roles deserve our utmost respect. The important work of correctional Officers often does not receive the recognition from the public it deserves. It is appropriate that we honor the many contributions and accomplishments of these men and women who are a vital component of the field of corrections." (Proclamation 5187, 2nd paragraph)
During this National Corrections Officers Week, I would like to express my gratitude and appreciation to a special group of officers and employees. The corrections staff at the Cherokee County Sheriff's Office consistently exceeds and performs at the top. The month of May has historically been the time of year to recognize corrections employees nationwide.
The average citizen has little or no idea the services corrections officers provide to the community. In addition to guarding and protecting the public from convicted criminals, corrections officers also act as protectors, chaplains, and counselors to the inmates.
They work inside the walls and interact with some of the most dangerous, unstable, deviant persons in society.
Unfortunately, corrections officers receive little or no recognition for the job they perform. The corrections officers of the Cherokee County Sheriff's Office are some of the most capable, committed, and compassionate anywhere. They work diligently to encourage detainees to make better choices and avoid future incarceration.
When you have the opportunity to meet our local corrections officers, please take a moment to thank them for the dangerous and important job they perform 24 hours a day, 365 day a year. I am personally thankful to this committed group of officers. I'd also like to express my appreciation to the Cherokee County Commission for their proclamation of National Corrections Officers Week.